Surgical placement of the dental implant or post is the first step in your dental implant treatment.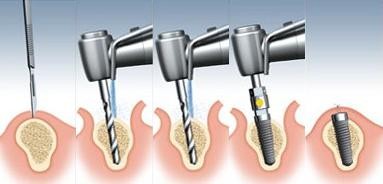 A dental implant is surgically inserted into the jawbone and is either covered by the gum (shown above) or by a special 'healing cap'. This procedure takes about an hour and can be done with local anesthetic only. It is painless and produces little or no post-operative discomfort. The implant is allowed to heal and integrate with the jawbone for a few months before it is ready to support the new artificial teeth. After sufficient healing, Dr. Berkovich may need to uncover the implants and attach a small healing cap. Two weeks later you will be ready to see your dentist who will take the impressions to start making your new teeth replacement.
If you have a fractured or decayed tooth that needs to be extracted, in certain cases a dental implant may be placed at the time of the tooth extraction. However, if your fractured or decayed tooth is infected or there is not enough bone to support the implant, immediate dental implant placement is not advisable. Instead, a regeneration procedure aimed at re-growing the lost bone will be completed, and implant placement will be postponed by 3-4 months.
---
Contact Us
If you have any questions about the types of services we provide that you would like answered before you visit, please feel free to contact us. The San Francisco Center for Periodontics and Dental Implants team looks forward to meeting you and putting you on the path to the perfect smile.